By Nicole Lim
The shipping industry accounts for almost 3% [1] of the world's emissions, and arguably accounts for the largest proportion of many organisations' Scope 3 emissions. Yet, it is the most efficient form of transport of goods, compared to air, road or rail. More than ever, COVID-19 has shown the importance of shipping in preserving supply chains and transporting essential goods across the globe. With such a significant role to play, the shipping and maritime industry is key in ensuring the world meets climate goals set out in the Paris Agreement.
IMO2050
This year's World Maritime Day was themed Sustainable Shipping for a Sustainable Planet, aimed at creating awareness of the UN SDGs and to create the opportunity for the industry to reflect upon the work done and the steps that can be taken towards a sustainable future. This comes as the industry takes big strides to move towards a decarbonised future.
In 2018, the International Maritime Organization (IMO) developed an initial strategy on the reduction of greenhouse gas (GHG) emissions from ships, which lays out key targets and signals for the industry to follow. Referred to as IMO2050, this strategy is ambitious, with the following goals:
Reduce CO2 emissions intensity by at least 40% by 2030, pursuing a 70% reduction in 2050 [2]
Absolute reduction by at least 50% by 2050, pursuing efforts to phase them out by the end of the century, consistent with the Paris Agreement
Figure 1. GHG emission gap between IMO GHG strategy and BAU emissions (DNV-GL 2019) [3].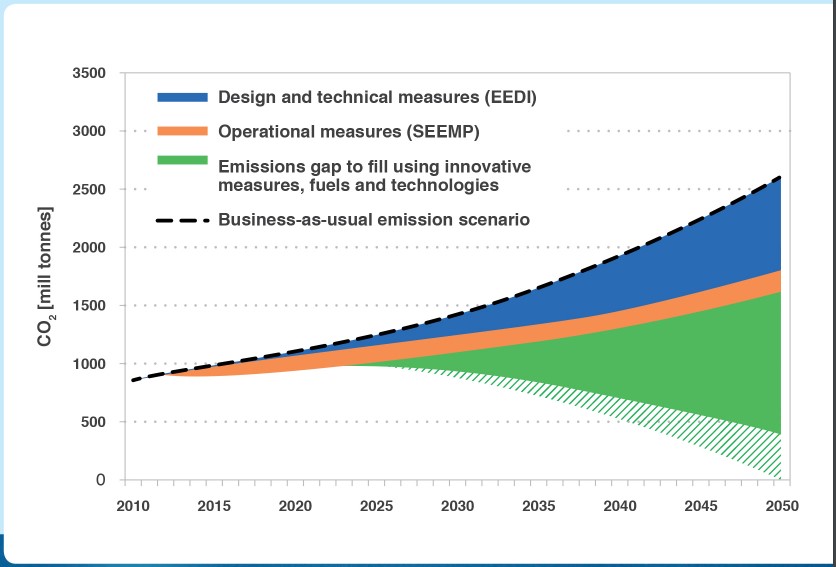 Figure 2. Illustration of overall GHG reduction pathway to achieve IMO2050, taking into account a wide list of short-, mid- and long-term measures.
Source: IMO Action to Reduce GHG Emissions from International Shipping
To bridge the emissions gap (Figure 2) and the IMO2050 goals, the maritime industry would have to develop solutions that do not yet exist today – from new fuels to better ship design and to better ways of operating.
Challenges faced today
While IMO2050 is a strong signal to the industry and definitely sets the right path forward, there is still a long way to go from where the shipping industry stands today.
Shipping is a capital-intensive industry. Ships, in particular, require a large amount of capital upfront and coupled with the long lifespan of ships. This creates lock-ins for shipping companies and can pose as a significant challenge to change.
Alternative fuels and new technologies are seen as vital and almost central to cutting emissions from ships. Many of the low-emission solutions needed are still untested, and there is a need for financing and initial investments to co-fund or pay for the development and implementation of such solutions. However, there is presently a lack of incentives and push to channel such financing to the industry.
Finally, the industry consists of a complex network of actors, with a largely fragmented ownership of the world's shipping fleet. The world's top 10 ship owners make up less than 20% of global capacity, with the remaining 80% of the fleet owned by smaller ship owners with a few ships each. Then there are other actors in the value chain, such as engine manufacturers, ship builders, ship managers and so on – often with a similar structure of fragmentation [4]. This hence makes it very difficult to get consensus and achieve industry-wide standards as well as transparency.
Transparency, particularly for GHG emissions, is especially important for decision-making for financing solutions and green investments.
Opportunities and Singapore's Role
However, with every risk and challenge, comes an opportunity. Singapore is well placed to seize the opportunities and lead to way towards decarbonisation of the shipping industry.
Singapore is one of the world's busiest ports and is the leading maritime capital of the world [5].
As a leading maritime capital and one of the world's busiest ports, Singapore has a role to play to set standards and regulations for the industry, such as in pushing for greater alignment and transparency in emissions disclosures.
As a financial hub, Singapore is well placed to create green financing mechanisms for the shipping industry. This year, many Singapore-based companies have been making headlines for successful implementation of various sustainable finance agreements [6], [7], [8], [9].
As a sustainability leader (on many fronts), Singapore's strategic geographical location is its biggest natural resource, and it is only appropriate that the sustainability agenda is reflected in its maritime sector as well.
Singapore is on the right track – Next year, the Maritime Port Authority (MPA) of Singapore will launch the Maritime Singapore Decarbonisation Blueprint 2050, which will set out strategies to achieve a sustainable maritime Singapore. MPA has also launched its Maritime GreenFuture Fund, worth $40 million, to create ecosystems for the test-bedding of low-carbon technologies [10].
This sends a strong signal to the industry that Singapore is prepared and ready to seize the various opportunities that come with moving towards decarbonisation.
Paia has strong expertise in climate change and carbon management strategy. We assist clients with carbon profiling, accounting, reduction and reporting. Paia has worked with key players in the Singapore maritime sector, including government bodies, and is well-placed to assist shipping companies with their climate change and carbon strategy and reporting. Do reach out to us if you would like to find out more.
References
[1] IEA Energy Technology Perspectives 2017
[2] Intensity calculated as CO2 emissions per transport work
[3] Maritime Forecast to 2050, Energy Transition Outlook 2019
[4] Decarbonising Shipping: All Hands on Deck
[5] The Leading Maritime Capitals of the World 2019
[6] CapitaLand obtains S$500 million sustainability-linked bilateral loan – the largest in Singapore's real estate sector, 28 May 2020
[7] CIMB and Starhub Ink RM270M Sustainability-Linked Loan Agreement, 19 September 2020
[8] Deutsche Bank and Olam International close Asia's first FX Forward using ESG performance targets, 26 June 2020
[9] NUS raises S$300 million in its inaugural green bond issuance, 27 May 2020
[10] Speech by Senior Minister of State for Transport and Health Lam Pin Min at The Ministry of Transport's Committee of Supply Debate 2020 Sustainable & Competitive Industries and Sustainable Environment with a focus on Aviation, Maritime and Active Mobility, 5 March 2020
https://paiaconsulting.com.sg/wp-content/uploads/2020/10/Sustainability-and-Decarbonisation-in-the-Shipping-Industry.jpg
1600
2400
Paia Consulting
https://paiaconsulting.com.sg/wp-content/uploads/2022/12/Paia-logo.png
Paia Consulting
2020-10-23 08:44:20
2020-10-23 09:21:15
Sustainability in the Shipping Industry – Road to Decarbonisation