Today, 5 June, marks World Environment Day. This year, the United Nations Environment Programme themed the occasion "Time for Nature", celebrating biodiversity on this planet. Many recent events such as the recent bushfires in Australia to the current pandemic and demonstrated our immense interdependence with nature. To celebrate this occasion, the team here at Paia has put together some of our fondest or most poignant memories with nature – from the magnificent to the everyday. We hope that these stories will be able to create some light in current times of immense uncertainty. Enjoy!
Himachal Pradesh
It was the summer of 2013 and I was doing my internship in Delhi, India. As part of the one-month programme, our group of about 30 visited various villages and towns in the state of Himachal Pradesh. Himachal Pradesh is a northern Indian state at the foothills of the Himalayas. My best memory of this trip is camping at the foothills of the Himalayas, in a place called Sangla, in the district of Kinnaur. We camped amidst tall, misty pine trees, beside a brook flowing down from the snowy mountains. We were surrounded by greenery and engulfed by nature on all four sides. Looking up at the pine trees and snow-capped mountains, I remember never having experienced a beauty like that before… and I have never experienced a beauty like that since. It dawned on me then how gorgeous, yet powerful nature is. Our group winded down the evening snuggling around a bon fire we made to keep us warm. It was the start of the most adventurous experience of my life. (Photo Credits: Aristo Mendis) -Sanjala Hari
South Africa
One of my best memories in nature was when I visited a wildlife reserve in South Africa last year. We would start each day with a game drive at sunrise, and end the day with another drive over sunset. The sunrises and sunsets were the most beautiful I'd ever seen in my life. I felt my soul expanding, pulsating with joy, filled with wonder and amazement. I saw the Big Five – elephants, leopards, lions, rhinos and buffalos – in exhilarating and breath-taking proximity. One night we sat in absolute darkness and silence as a lion feasted on the carcass of a poor giraffe – the sound of teeth scraping against bone and his roars to summon his pride sent shivers down our spines. At that moment, we were acutely aware of how vulnerable and defenceless we were next to these majestic creatures. While I appreciated nature, I had never been much of an outdoor person (with an immense dislike of bugs, leeches, ticks and mosquitoes). This experience changed me profoundly. I think I am much more of an outdoorsy person now.
-Cheryl Lee
Finding nature in the city
Juvenile horseshoe crab at Kranji Mudflats, 2017 (Hand for scale)
I appreciate that pockets of nature are still present and conserved in urbanised Singapore. Colugos in our lovely MacRitchie nature reserves, diverse coral communities in our offshore islands, the majestic Pulai tree in Chek Jawa. Even short moments of contact with our animal friends always bring a smile to my face, such as a jungle fowl crossing the roads of Tanjong Pagar, or a sunbird singing by the window. I haven't caught our resident otters in action – it's on my wishlist. I take this time to be grateful for nature – it is a source of inspiration and joy for me. -Ning Li
Sierra Leone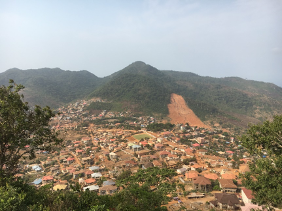 I conducted a field research trip in Freetown, the capital of Sierra Leone in 2019. It was there that I witnessed first-hand just how thin and fine the balance of nature is. The country experienced a tragic civil war just decades prior. As a result, mass migrations from the rural provinces into the city occurred for safety and economic reasons. The city's population expanded from around 400,000 to 1,000,000 people, which caused infrastructures and public services to struggle to cope with the population influx ever since. With the lack of proper housings, migrants build houses themselves wherever they found lands without proper access to utilities and essential services. Eventually, neighbourhoods became sprawling informal settlements or slums that extended to formerly untouched nature. The unregulated expansion of these informal settlements often resulted in the complete erosion of the environment, which then caused and exacerbated public health and sanitation problems.
My experiences in one of the hillside settlements were profound and can be described as sensory overload at every turn of the corner. Our guides and colleagues from the local community often told us the river that runs through the settlement was clean, pristine, and fresh before the civil war and its ensuing migrations. Their neighbourhoods lived in nature but not anymore. Not far away, there was a site of a tragic landslide which destroyed houses, livelihoods and claimed lives that occurred before my visit due to the unregulated land settlement that corroded the integrity of the hillside soil. There are many more examples of how social issues have instigated environmental degradation which then led to more social issues. While it is unfortunate and unintended on the part of the city's population that struggles with livelihoods, it is nonetheless evident on how easy it is to disrupt the balance of the nature and consequently, a cycle of socio-environmental problems. -Adrian Pang
Sights from Circuit Breaker in Singapore
Living in the hustle and bustle of a city like Singapore, I hardly took the time to slow down and observe the unique ways in which nature co-existed in the urban jungle. During the Circuit Breaker period, I managed to come across wildlife that were probably always there, but I just didn't take the time to notice.
I now know that there are at least three Oriental Pied Hornbills that are resident to the area, and often like to sound their call around 3pm in the afternoons. There is also a White-throated Kingfisher that regularly perches at the canal, where a family of otters like to gather every morning after their breakfast catch.
Because of the overgrowth of grass at this nearby field, fruiting mushrooms can now be seen growing in rings, especially after rainfall. The fungus root system underground grows from one central point out in all directions and produces mushrooms above ground as fruiting bodies. This sight is commonly known as "fairy rings" and have many myths and stories associated with it.
Last but not least, I have been really enjoying watching the sunsets over the past few weeks. I think sunsets have definitely been getting better during this Circuit Breaker period. Could it be because of lowered pollution levels? Whatever it is, this time has reminded me to appreciate nature not only during travels to "nature sites", but in the everyday.
-Nicole Lim
Making a Difference
As a teenager, I was lucky enough to visit the Grand Canyon at dawn break. It had a profound impact on me, to see the marvel of our natural world, and to reflect on our many natural wonders. I decided there and then that I wanted to focus on environmental issues and make a difference. A passion that has carried me through 30 years dedicated to driving environmental change. We have a unique chance at the moment for change. I hope we can collectively take this opportunity to build back in a way that brings greater balance to both the environment, and society. -Carrie Johnson
https://paiaconsulting.com.sg/wp-content/uploads/2020/06/UNEP_WED2020_Website_Hero_1440x660_v1.07.jpg
660
1440
Paia Consulting
https://paiaconsulting.com.sg/wp-content/uploads/2022/12/Paia-logo.png
Paia Consulting
2020-06-05 09:34:41
2020-07-30 10:26:42
Time for Nature